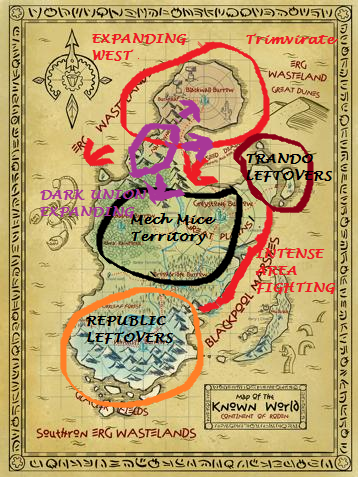 FILE LIST:
COMPANIES
LOCATIONS
>MILITARY/SELECTED
HISTORY
SQUAD/MILITARY REGION LIST:
>NORTH/SELECTED
SOUTH
EAST
WEST
NORTH SQUAD/MILITARY LIST:
GRAND ARMY OF THE REPUBLIC
BETA SQUAD
MASTER DELTA SQUAD
NADDISTS ARMADA
JEDAII ORDER
FIELDS OF MOOSE BATTALION
TRANDOSHA SECT. MILTIA
>LORD ARMADA TRIUMVIRATE/SELECTED
HALO FIRETEAM 
SEARCHING...
LOADING....
LOADING COMPLETE. ACESS TO LORD ARMADA TRIUMVIRATE GRANTED.
Lord Armada Triumvirate

Master Sith, Acolyte Traya, and Marauder Sion standing at the North Academy.
Lord Armada Triumvirate

Government Body:

Political regime governed by three powerful individuals.

Alliance:

Itself. (Not apart or aligned with any other armada.)

Members:

Sith, Traya, and Sion. (Due to Mecrossa ancestry no last names are provided.)

Political Influence:

High (In the North) Low (Everywhere else)

Fear Factor:

High (North, and West)

DATA RECORDINGS:

"We will burn through the North of Roden, and decimate each end in the name of our power and our ancestors power!" -Sith
Sith


Master Sith

Name:

Sith

Age:

25

Weapons:

Mecrosa Assassin Pistol, shock darts, and Triumvirate lethal staff.

Attributes:

Superior strength, enhanced mental and physical abilities, expert martial artist, marksman, and master strategist.

Government Position:

Highly influential/manipulative lethal, and feared individual.
Traya


Acolyte Traya

Name

Traya

Age:

19

Weapons:

Macrosa Staff, Macrosa Poison Swords,Triumvirate Staff, Medium Force Powers

Attributes:

Hand to hand combat, melee combat, swordsman, technician.

Government Position:

Highly feared individual
Marauder Sion


Sion

Name:

Sion

Age:

24

Weapons:

Vector Assault Gun, highly concentrated force powers.

Attributes:

Skilled in weapon combat, highly spiritual powers, high charisma, highly trained in force powers, very tough.

Political Power:

Highly feared individual.
NOTES: Hello, to the "mice" brave enough to encounter us; you will be destroyed, left in tatters and disgust like a expired can of Grub Yums at my foot steps. Our Triumvirate will rule all of the lands, we have taken the precious north from the Republic retundant, the Jedaii, and the cowards of the Naddists. We will destroy every mouse of a shell of a man we see, and Roden- it will be ours. We will be feared, we will be lethal, and we will be ready- Master Sith
The squad is refered to: FORCE MASTER when using the MMACADEMY trainning stations. (One name to rack up points per the entire squad instead of each other.)
Community content is available under
CC-BY-SA
unless otherwise noted.