The Beginning


Basic Info
Level
1
Chapter
1
Release
July 9, 2013
Location
Tumbleweed
Orders

Repair the 3 radar towers
Meet up with Flank the Heavy unit
Report anything unusual
The Beginning is the first level in Chapter One of Season One in Mech Mice Tactics. In this level, Blaze and Flank are sent out to reactivate 3 Radar Towers.
Mission
[
]
Several radar towers have stopped working in the remote region of Burntleaf. A small squad is needed to traverse the desert terrain and repair the towers. 
There are currently no predators of enemies reported in the region. A local mouse assigned to the region has been arranged to guide your team.
Treasure Tokens can be found at the following places:
In the level start area, a Treasure Token is hidden behind the big cactus on the right. The cactus must be destroyed to reach the Treasure Token.
On the left of the first radar tower there is a hidden path behind a cactus. Destroy all the cacti in the path- the Treasure Token is in the end of the pathway.
Just after the third tower, instead of going right until the end of the mission, go to a hidden path that is accessible from the upper side of at the middle of the ordinary trail. The Token is located at the end of the path.
Glitches
[
]
While playing in Adventure Mode, the player may experience a glitch where after clicking on Flank the option to move freezes. Therefore, the player is stuck and must exit out of the mission.
While playing in Adventure Mode, you can have three units along with an extra Flank, a total of four units.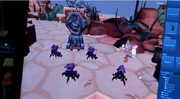 Trivia
[
]
This mission was playable during the Beta Test.
Gears and Treasure Tokens are firstly introduced here.
The dialogue, along with many other missions of Chapter One, has drastically changed after the Beta event.
At the end of the level, Queen Termina is seen in the background.
Gallery
[
]