The Taxonomy is a biological map of animals and creatures that shows different races and species of different animals. The map is sectioned into seven different sections- Civilized Races, Barbarian Races, Sentient Beasts, Roaming Monsters, Livestock, Insects and Wasteland Mutants. Most creatures shall most likely be seen in later chapters or seasons, or not be seen at all.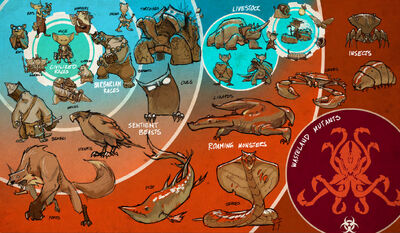 Civilized Races

Mice
Rats
Hamsters
Bats
Gerbils
Shrews

Barbarian Races

Frogs
Badgers
Moles
Beavers

Sentient Beasts
Roaming Monsters

​Foxes
Fish
Snakes
Lizards
Crabs

Livestock

​Iguana
Birds
[Unknown Creature]
Snails
Caterpillars
[Unknown Creature]
Butterflies
Bees

Insects

[Unknown Creature]
[Unknown Creature]

Wasteland Mutants
Community content is available under
CC-BY-SA
unless otherwise noted.