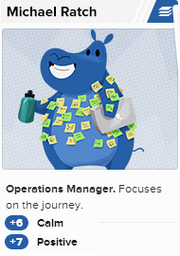 Michael Ratch is the Operations Manager of Hyper Hippo Productions. He takes care of all the obstacles thrown in the team's way.
Trivia
[
]
His favorite childhood toys were the GI Joe action figures. He still has a collection of them.
Micheal thinks that Braveheart, Wolverine and Neo would be a cool team to create an action-movie with director Quentin Tarantino.
He takes care of game design documents, technical design documents, projections, scheduling, planning, and spreadsheets.