Explore
Welcome to the Mech Mice Wiki, Commander !

We are a free, editable encyclopaedia database of Mech Mice with 200 articles and 1,022 images that you can help edit! We are the largest fan-source of Mech Mice to date, with detailed information about units, weapons, levels, objects, characters, events and enemies and many more.
About Mech Mice
Mech Mice Tactics is a strategy game for players young and old. A combination of board game think and move with a thrilling action packed story, each chapter introduces new characters, challenges, epic battles and also includes:
  -Up to 6-8 hours of gameplay in each chapter in Story Mode
  -Unique units with distinctive special abilities 
  -Endless mix-and-match play in Adventure Mode

Mech Mice Tactics is created by Hyper Hippo Productions, and is committed to creating safe, friendly and entertaining environments for kids. Check out their website to learn more.
Mech Mice Academy is a First Person Shooter with class-based and vehicle-based combat. With a variety of unique game modes, there is a class and map for any player type. However, this game was replaced with WildWarfare in 2014.
In the Mech Mice world, all new recruits to the army must first undergo rigorous simulated combat training. Cadets enter the Mech Mice Academy and compete in various training exercises (Game Modes) that include unique terrain and scenarios. The goal is to ensure they are battle ready for any type of scenario or hostile enemy.
Mech Mice Genesis Strike is also a book series based on the game written by the Miller Brothers who also have written the award-winning Hunter Brown novels.
A TV show based on the Mech Mice franchise is believed to come out in a couple of years or months. The show will be animated by Oktober Animation, but it is currently unknown on which channel the show will be broadcasted on. The show will be based on a large squad; all members of it are different units.
Featured Article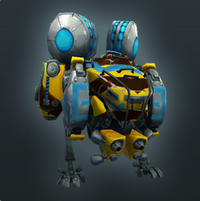 Mech Unit
The Mech's are the most prized technological marvels of Roden. The Units come in all sorts of shapes and configurations. Hand-crafted by artisan-engineers, each Mech is custom made for its driver. When you hear the WIZZ-KACHUNK KACHUNKKAACHUNK! crashing through the underbrush, it can only mean one thing: it is on! The two known Mechs are Betsay and Omega.
Featured Image

Mech Mice News
The beginnings of a Mech Mice TV show are happening. Follow the Oktober Animation team and the Mech Mice team on Twitter for the latest news!
Play Now
Guide your squad through intense battles!

Poll
Did you know...
... that Mech Mice Tactics was released on the iPad?
...that the Mech Mice Wiki is the largest fan-source to date?
...that Mele is the Dame of Liwa in Mech Mice Genesis Strike?
Affiliates

Mech Mice Fanon Wiki
The place where you can create fanon for Mech Mice!


Mech Mice Genesis Strike Wiki
An entire wiki dedicated to Mech Mice Genesis Strike!


Rocketsnail Wiki
A wiki all about Lance Priebe's games.


Club Penguin Wiki
A massive database about Lance Priebe's #1 hit game, Club Penguin!
Mech Mice™ is a registered trademark of Hyper Hippo Productions. The Mech Mice Wiki is in no way affiliated with Hyper Hippo Productions or Mech Mice itself. Any images used from the official Mech Mice website may be subject to copyright and is used with all due credit.