Reality
This article is about something in reality outside of the world of Mech Mice.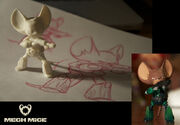 Mech Mice Merchandise are unreleased merchandise based on Mech Mice. Some of the merchandise is related to Mech Mice Genesis Strike. Most of the merchandise will include action figures, books, and possibly even t-shirts. Hyper Hippo Productions has already begun testing Mech Mice figures, though production may have been halted due to to further development of Mech Mice Academy.
Toys
[
]
Cale, the lead artist for Mech Mice, commented about the first toy prototype; "What better way to start than this really really REALLY cool sneak peek at our first prototype of a Mech Mice little figure. It's always been a big dream of mine to design a toy so working on this was definitely pure joy :D Now this was our first test so don't get too attached to this lil guy as he does have a number of issues. Most notably the ability to break really easy (I kinda, sorta broke his head off...twice...) Regardless I still think he is a pretty awesome first test!"
Trivia
[
]
It is unknown when Hyper Hippo Productions will start selling Mech Mice related merchandise, although they have already made Mech Mice Genesis Strike.
The first merchandise to be based on and tested was Mech Mice Genesis Strike.
See Also
[
]