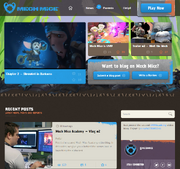 The Mech Mice Blog is an online journal on Mechmice.com which is updated regularly by Johnny Jansen (aka MechMoose), a Community Manager. It mainly tells of upcoming features and announcements in general.
Community
[
]
Users can comment on a post by scrolling to the bottom of the page and filling in the "Name" and "Comment" text fields. Starting from August 2013, users can write a blog post for the Mech Mice team to see and users can also write a general review of Mech Mice Tactics or Mech Mice Academy. They can rate the game on a scale of 1-5.
Trivia
[
]
The blog opened on June 20, 2013, with the first post being a welcome post.
Vlogs are often posted on the blog, usually documenting things that may come to Mech Mice in the near future.
External links
[
]