Not to be confused with the Commander Unit or the Dragoon.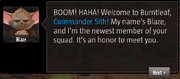 Commander is the unseen player in Mech Mice Tactics. They are often mentioned by main characters such as Blaze, Flank, Dusty, Torq, and more as they play a key role. The Commander, considered a member of the squad, directs the units in their command. They are often consulted in the beginning of missions by the mice.
Trivia
[
]
The Commander is the player who controls the units, and is referred to often.
The Commander is also considered a member of the squad, and units are assigned to them for missions, usually day-to-day business which quickly escalates into a evil plan from the Dark Union.